VEF AS is one of the oldest companies still operating in Latvia, the origins of which date back to 10 June 1919, when Engineer Eduards Kadiķis, Head of the Latvian Post, Telegraph and Telephone Administration issued an order to Aleksandrs Tīpainis to organise and manage the mechanical workshop of the Administration, to repair the equipment used in the industry – telephone and telegraph devices, line accessories, and postal equipment.
Initially, only five fine mechanics worked in the workshop. Only in 1932, the Main Workshops of the Latvian Post and Telegraph Department were renamed the State Electronic Factory – VEF (Valsts elektroniskā fabrika). At that time, VEF manufactured everything for which it could find a market – it repaired communication equipment, made telephone exchanges and electric light bulbs, cameras and irons, radios and flashlights, telephones and photography paper, etc.
The mid-1930s were marked by the launch of two product types that made the VEF brand known outside Latvia. The design process of VEF Minox, the smallest camera of the time, was commenced. In 1944, all Minox production facilities were taken to Germany. The Mechanical Department of the factory started the design and construction of original wooden sports aircraft. By the Second World War, 33 sport and military aircraft had been built. In 1939, with the outbreak of the Second World War, the factory expanded its production of gas masks, field telephones, and other products needed by the troops. However, the largest share was accounted for by basic products – radios, telephones, batteries, light bulbs, and transformers.
During the German occupation in 1940 -1944, VEF was leased to AEG and produced mainly products for the army. After the war, VEF continued its previous production profile, significantly expanding production volumes. In 1979, VEF became a production association. After Latvia regained its independence, demand for VEF products declined and production was curtailed until it ceased altogether.
As the years passed and the political situation in the country changed, in 1991, production association VEF was founded and registered in the Enterprise Register of the Republic of Latvia, which was transformed into a state joint-stock company with 24 companies in 1993.
According to the Order of the State Property Fund "On the Reorganisation of the State Joint Stock Company VEF", the state joint-stock company was reorganised, separating six companies from it and transforming them into state joint-stock companies.
"VEF – Transport"
"VEF – Services"
"VEF – Transistor"
"VEF – Printing Plate Factory"
"VEF Tool Factory"
"VEF – Switching Equipment Factory VEF-KT"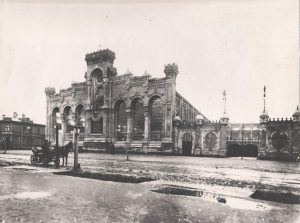 VEF AS was established in 2000 as a result of the privatisation of VEF, state joint-stock company under privatisation. The company was privatised by sale of shares in a state-owned statutory company.
Since 2000, VEF AS has been exclusively engaged in the management of its own buildings and distribution of electricity.